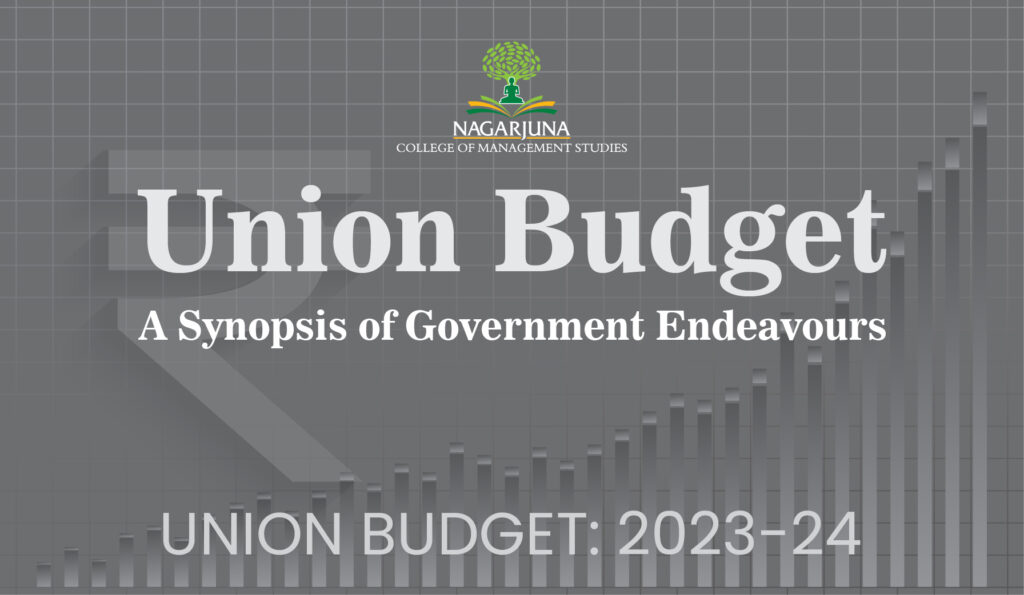 A budget is generally the plan made to estimate the receipts and expenditures of a year. Generally,
there are three types of budgets: a surplus budget, a balanced budget, and a deficit budget.
The Surplus Budget indicates a surplus in receipts and a decrease in expenditure.
Whereas the Deficit Budget is the opposite, there is an increase in expenditure and the receiptsare limited in nature.
A Balanced Budget, as the name suggests, composes of equal receipts and expenditures.
A budget is prepared for a particular financial period. In India, a financial year usually begins on the 1st
of April of every year and ends on the 31st of March of the following year.
UNION BUDGET: 2023-24
The union budget prepared by India is fiscal, which indicates that receipts will be lower when compared
to expenditures. Here is a glimpse into the Union budget prepared for the financial year starting from
April 1, 2023, to March 31, 2024.
Firstly, the Income Tax Regime, from the earlier six regimes, is reduced to five regimes(categories) of income in consideration of income tax. This year the tax exemption limit hasbeen exceeded to Rs. 3 lakh, which means that anyone with an annual income up to Rs. 3 Lakhdoesn't have to pay any taxes. Further, the rebate limit for personal income tax is increased toRs. 7 lakh from the current Rs. 5 Lakh.
Simplifying the above statements, the tax percent on income up to 3 lakh rupees is zero, if it is above the 3 Lakh mark, the individual has to pay the tax percent based on the tax regimes. However, by filing the ITR at the end of the year, people with income up to Rs 7 lakh can reclaim the paid tax amount as a rebate.
Another significant point from the union budget speech is that the railways are the government's primary focus. Therefore, the maximum amount has been allocated to them this year, which is Rs. 2.40 lakh crore, the highest amount ever. Also, the outlay for Pradhan MantriAwas Yojana has increased from 66% to over Rs. 79,000 crores.
And for the educational field, Skill India International Centres have been set up across various states, numbered up to 30, intending to skill the youth for international opportunities. Also, Pradhan Mantri Kaushal Vikas Yojana 4.0 is launched for youth skill development. The main focus lies in the fields of coding, AI, IOT, 3D printing, robotics, drones, and soft skills for the coming three years.